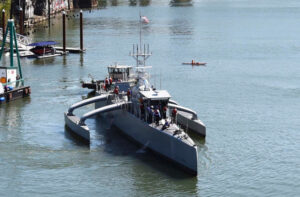 Photo credit: John F. Williams/U.S. Navy
Stars and Stripes reports that the United States Navy has begun testing the world's largest unmanned ship.
The Sea Hunter is an entirely new class of ocean-going vessel. After two years of planned testing with a human crew to verify that its guidance system works properly and avoids collisions with other craft, it is expected to begin operations based only on mission-level commands that tell it where to go and what to accomplish.
Modern anti-submarine combat ships are about 500 feet long or almost four times the length of the Sea Hunter. They require a crew of about 300 officers and enlisted men where the Sea Hunter will require none.
Anti-submarine warfare is only the tip of the apocryphal iceberg in terms of the Sea Hunter's technology's longer range impact on human involvement, however. According to Stars and Stripes, "DOD officials say unmanned vessels could one day be used in many different ways, including to countermine actions and cargo transport."
Cargo transport is one of humanity's oldest professions. Early civilizations developed near navigable water ways at least in part because rivers, lakes, "the seven seas," and the worlds oceans provided easy transportation for people and products.
"Going down to the sea in ships" is ingrained in human consciousness as an honorable act that produces value and demonstrates human worth through courage and toughness. More than one million men and women earn their living at sea. While the International Transport Workers' Federation "does not believe technology will ever be able to replace the ability of humans to foresee and react to the various dangers at sea" according to Stars and Strips, it just may be that "the [robotic] writing is on the wall" for the seafaring workforce.